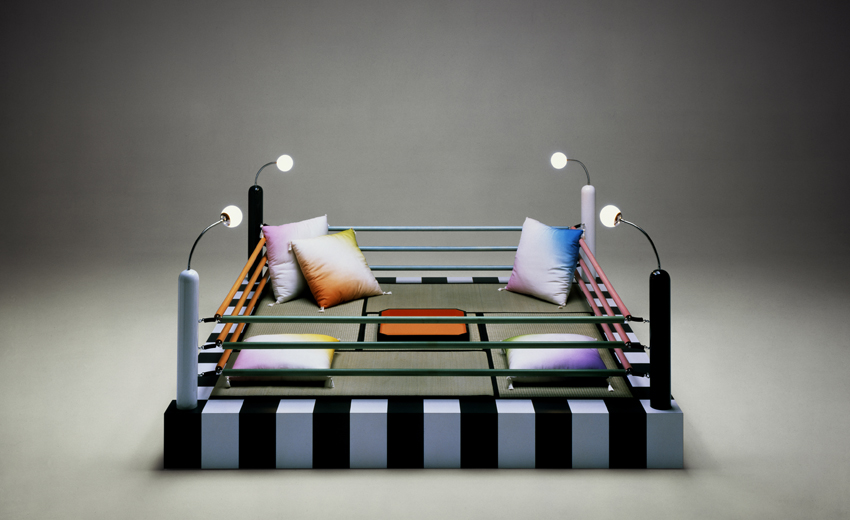 The concept of Tawaraya is a hybrid design of something Western and Japanese.
In Japanese architecture existing from the 14th century, the module (or a standard of scale) determines the room's dimension. A room is based (even now) on the quantity of Tatami. The Tatami has a size of 1500 x 900 mm circa. The dimension of Tawaraya, which is four and a half Tatami, is a historical space of the smallest dimension of a Japanese apartment. This is a rational space where you can use to eat, stay and sleep.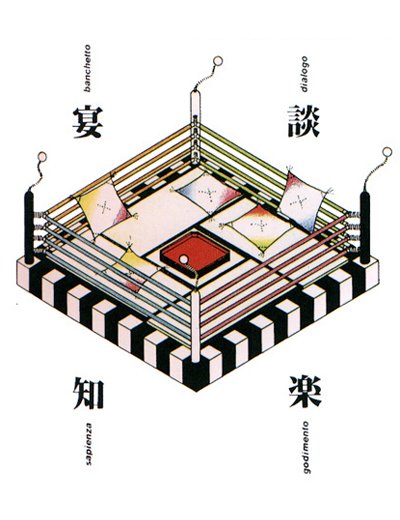 I also wanted to made something that is ' A space, in the same time as furniture', which may still remain as a strong and unique concept that is can difficult to find in other furniture. My interpretation of Memphis was the creation of a new borderless style. And this was my borderless style.
When I lived in Italy, I often saw Italians, lovers chatting, to debating politics, economy, food and football. I wanted to create 'A place for intellectual fighting' a ring for them. Before it started, I was sure that the Memphis movement would be successful and subject to criticism. So I expressed the metaphor of the battle of Memphis who was criticized. Maybe he might disagree, but I wanted to see Ettore Sottsass debating with critics. (Maybe it happened without him knowing)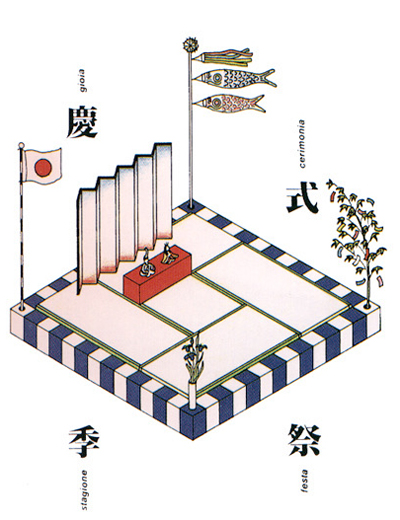 At first 80's, in Europe the material of Tatami was used only in Holland, in the judo-dojo (gym) and for most Europeans it was their first time seeing this material. The first pieces were made using a Tatami carpet made in Japan sent to Italy. The Italian craftsman finished covering it in a polystyrene base. They followed my very detailed illustration drawings.
I presume Sottsass was confused when he saw the drawings about Tawaraya's direct expressions which were not so abstract. I was called to join them for the first series, so I was convinced that for the European lifestyles in which shoes are worn (in Japan, no shoes worn on Tatami), it does not match in the market.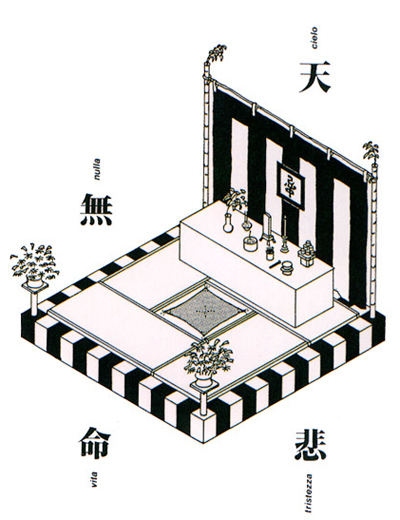 The first 'recognition' was when I saw it in a magazine article with Mr. Karl Lagerfeld standing with his shoes in the center of his Tawaraya.
In any case, I am very happy to see it published in various media when the design of the 20th century is represented, the Tawaraya is often selected.
My most significant interest is regarding my works collected in museums. I think that the design has been evidentially divided, day by day, in two ways. One is the direction of mass production for the masses, and another direction is art production for a small range of people. I would like to be included in the second direction, making beautiful and unique things.
-extract from an interview draft text, Masanori Umeda